BOLOGNA, 09 settembre 2021: Preserves Italy recovers 50 thousand tons per year. From tomato hulls to corn leaves, from non seeds conforms of peas to chickpeas out of size, up to the pits of peaches and apricots. None of this is thrown away in the moles production processes of Conserve Italia, so much so that they are beyond 50 thousand tons of by-products that are recovered every year in the factories of the cooperative group of brands Cirio and Valfrutta. Livestock feeding and energy production through anaerobic digestion: these are the main destinations for i residues from fruit, tomato, legume and corn processing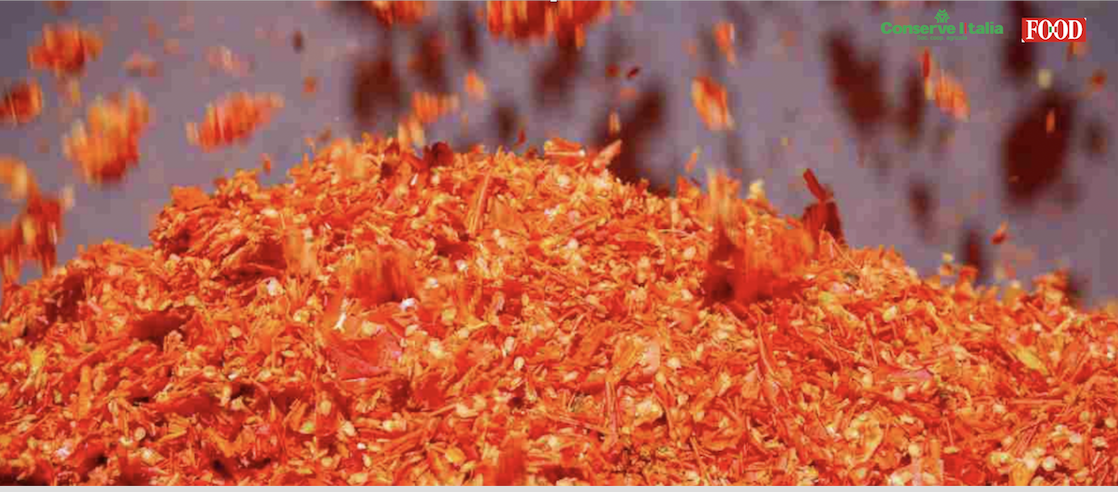 A commitment to reduce waste that Conserve Italia wanted to testify by participating in the re-Food Market of Esselunga, the sustainability supermarket run by Livia Pomodoro.
Tomato within RO-GUILTLESSPLASTIC (the project by Rossana Orlandi) and set up at the National Museum of Science and Technology "Leonardo Da Vinci" of Milan, open on the occasion of the Milan Design Week.
The residues from the processing of peas, green beans, beans and other vegetables are recovered as fertilizer agricultural.
The residues of fruit processing, on the other hand, and in particular peach kernels, nectarines and apricots become useful instead
for combustion aimed at producing energy
thermal
A part of these processing residues is recovered
directly within the production cycle of Conserve Italia through the biogas plant present in the plant di Pomposa (FE), which makes it possible to reuse the by-products of agricultural processing to produce electricity.
To all this there are also over 17 thousand tons
of agro-industrial biological sludge deriving from the plants of wastewater treatment, which constitute the most of the waste generated by Conserve Italia (70%) e that the company recovers every year, earmarking them for use agronomic with great benefits for farm crops agricultural.